The Grand Opening of ALPHA IVF & WOMEN'S SPECIALISTS (KL)
knchua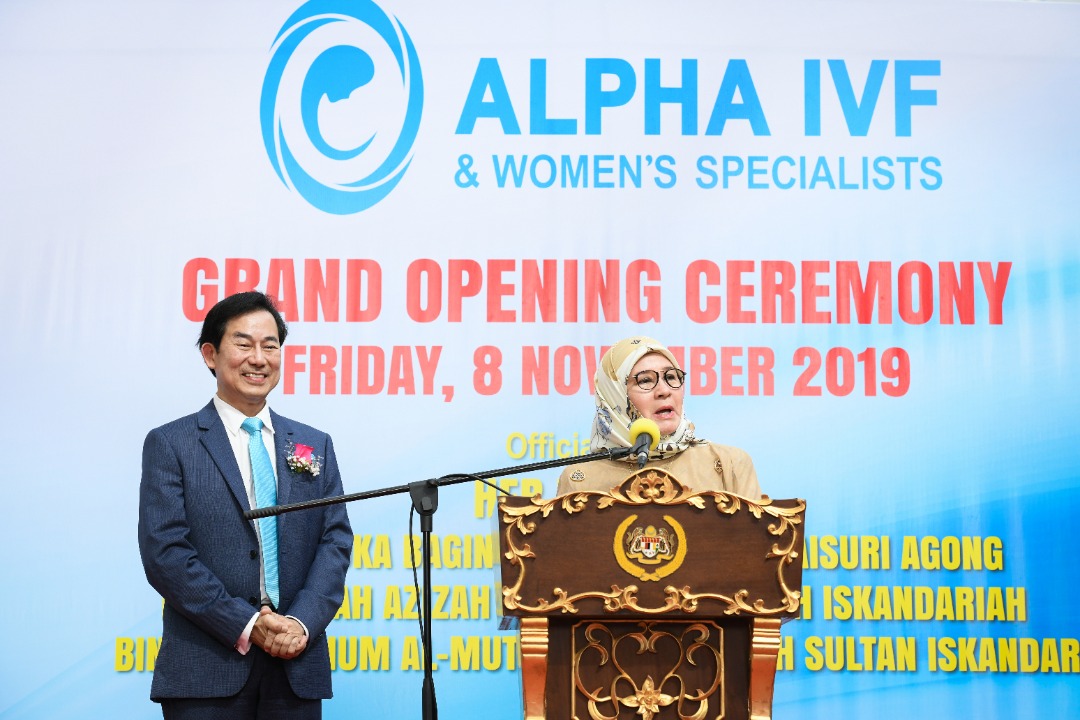 Alpha IVF & Women's Specialists (KL) had a grand opening under the gracing of Her Majesty Seri Paduka Baginda The Raja Permaisuri Agong Tunku Hajah Azizah Aminah Maimunah Iskandariah Binti Almarhum Al-Mutawakkil Alallah Sultan Iskandar Al-Haj, here at Encorp Strand Mall – Kota Damansara, on the 8th November 2019. Recalling back when we had first started our journey from a 1,050 sq. ft. of space back in the year 1994, we had shifted to different places with some radical changes which had taken place as the years went by. Alpha IVF & Women's Specialists was known as Alpha Fertility Centre previously. Now, moving to this the new premise of 30,000 sq. ft. of space with its new identity, fully equipped with the most comprehensive and wide-ranging fertility-related treatments, undoubtedly marks the growth of our company by leaps and bounds.
The grand opening had truly been a joyous occasion as we had many of our international partners, consisting of different nationalities from countries such as Indonesia, Singapore, Australia, United Kingdom and Japan, visiting us on our special day making it a breath-taking moment for all of us. The audience comprised of different nationalities were significant as it vindicates the numerous people who had benefited through our IVF journey along the years.
With an uplifting spirit, the very statement of Her Majesty, during the officially launch of Alpha IVF & Women's Specialists (KL), proved the unshakable hope that has been laid out for those hoping to overcome infertility issues. "Now, I must be the only Queen in the world who have four IVF (In vitro fertilisation) babies," were the words of her majesty, who had successfully had four IVF pregnancies, with an attempt of 17 times, due to the low success rate of 20% (back in the old days), truly portrays her majesties great determination. Moreover, strengthening her majesty's words, was the very presence of Malaysia's popular songstress Dato' Sri Siti Nurhaliza Tarudin, who became pregnant through the IVF treatment provided here at Alpha IVF‒KL. The well-known local artist had expressed her heartfelt gratitude to the doctors and also the nurses, who had provided great assistance for her throughout the IVF program. Adding on, Dato' Siti had also expressed her thankfulness to her majesty for the continues encouragement she had received from her majesty herself, in order to steadily continue the IVF journey until she became successfully pregnant with her most adorable daughter, Siti Aafiyah Khalid.
Legends like herself entrust their hope to assist them during this highly sensitive and overwhelming phase, due to our centres' high IVF success rate. We are one of the IVF centres in Malaysia with high clinical pregnancy rate of 82.9% which has made us comparable to top IVF centres around the world. Being a great inspirational image, Dato' Dr Colin Lee Soon Soo's vast knowledge and experience of 30 years in the field of fertility, has craved the pathway towards excellence, for the many brilliant minds working together with him. As the medical director of Alpha IVF & Women's Specialists, he and his team, consisting of numerous doctors, embryologist and scientist of great expertise, have achieved many of world's firsts, setting new standards in the field of IVF treatments.
Complementing the name "Alpha" we are determined to offer you with first-class facilities and treatments in order to maximise every parents' potential to parenthood, turning dreams to reality at a comprehensive IVF centre like us, the Alpha IVF.