ALPHA FERTILITY CENTRE BAGGED THE TOP AWARD FROST & SULLIVAN'S 2018 MALAYSIA FERTILITY CENTRE OF THE YEAR
knchua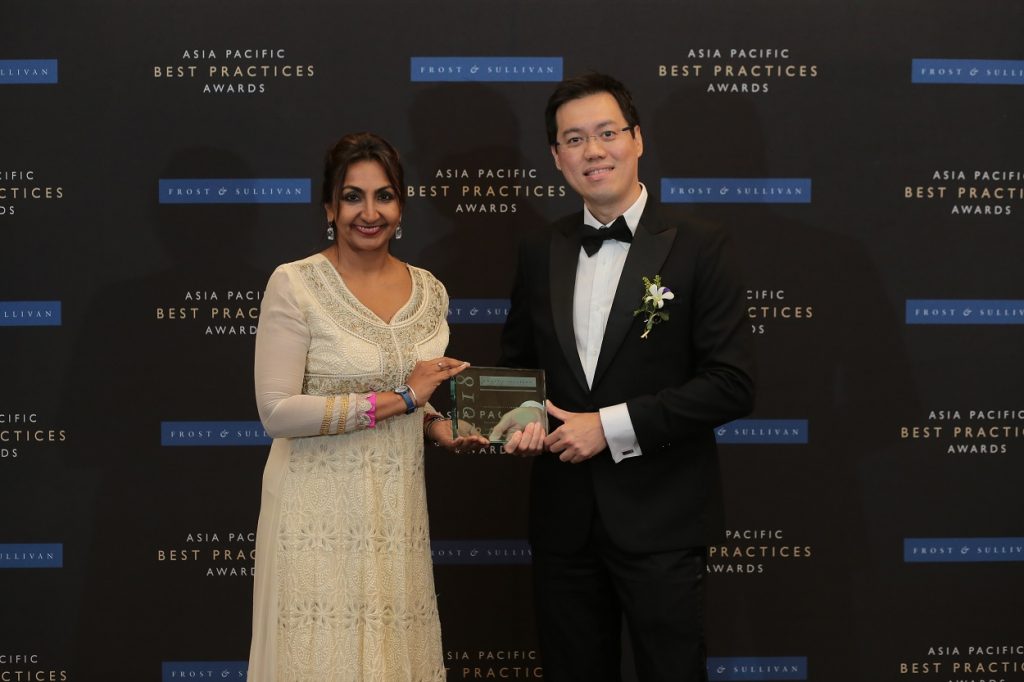 Alpha Fertility Centre is Awarded Fertility Centre of The Year by Frost & Sullivan
KUALA LUMPUR, June 26 – Alpha Fertility Centre was named as the 2018 Malaysia Fertility Centre of the Year by Frost & Sullivan at its 14th Annual Malaysia Excellence Awards banquet held at Hilton Kuala Lumpur.
The Alpha Fertility Centre, shortlisted out of three companies, was accorded the Frost & Sullivan's 2018 Malaysia Fertility Centre of the year for leadership, technological innovation, customer service and strategic product development.
On receiving the esteemed award, Dato' Dr Colin Lee who is the founder of the Alpha Fertility Centre said: "The award is a testament to the relentless effort by our dedicated and passionate team who upheld Integrity, Transparency and Excellence while ensuring the best individualised/customised treatment for infertile couples to start a family.
Our company's outstanding performance throughout 2017 is also testimony to our achievement. Aside from the performance figures, we also submitted our five innovative technologies and discoveries we implemented in the year 2017 which gave support and strength to the whole meaning of fertility centre of the year, namely :
ERA (Endometrial Receptivity Analysis) to determine the receptivity of the endometrial lining by determining the window of implantation.
It is a diagnostic method to evaluate the endometrial receptivity status of a woman from a molecular point of view, leading to a personalized embryo transfer based on the personal window of implantation period.
Administration of anti-fungal treatment before embryo transfer which improves implantation rate in frozen embryo transfer and clinical outcome
Sperm sorter QUALIS to avoid DNA fragmentation of sperm during sperm processing
Time Lapse Embryo Scope technology for embryo culture, development and selection of best embryo for transfer to acquire higher chance of pregnancy.
Preimplantation Genetic Testing using NGS (Next Generation Sequencing) that is capable of doing concurrent PGS (Preimplantation Genetic Screening), PGD (Preimplantation Genetic Diagnosis) , and HLA Typing with one single biopsy under one single platform
We strongly adhere to high ethical and clinical standards while focusing on modern innovation and technology to create the best possible IVF lab".
Alpha Fertility centre manages to maintain and improve pregnancy rates despite adopting best practice of reducing the number of embryo per transfer from 1.5 to 1.3 to 1.2 for the years 2015, 2016 and 2017 respectively.
For the Fertility Centre of the Year Award, Frost & Sullivan analysts independently evaluated key benchmarking criteria:
Financial Performances
Addressing Unmet Needs
Customer Service Experience
Implementation of Best Practices
Brand Equity
Malaysia Frost & Sullivan Country Head June Liang said the Alpha Fertility Centre with its strong overall performance has earned the 2018 Malaysia Fertility Centre of the Year.
"We also recognize that your receipt of this award is the result of many individuals (employees, customers and investors) making daily choices to believe in the organization and contribute in a meaningful way to its future," she added.
The Frost & Sullivan Best Practices awards have identified and honoured best-in-class companies that have demonstrated excellence in the irrespective industries. Award recipients were identified based on in-depth interviews, analysis, and extensive secondary research conducted by Frost & Sullivan's analysts.
Companies are typically studied on their revenues, market share, capabilities, and overall contribution to the industry in order to identify best practices.
Transformational Health Frost & Sullivan Associate Director Geeta Dhanoa said:  "In an increasingly competitive fertility treatment market, Alpha Fertility Centre successfully sustained its robust growth momentum in 2017, positioning itself as one of the leading companies in Malaysia offering a full range of fertility treatment services.
As a pioneer in the market, she added, the company leverages its numerous achievements, proven track record, excellent clinical and nursing services, and revolutionary technologies, allowing it to build customer trust and expand customer base, resulting in 28% revenue growth in 2017.
She said the company's continuous commitment to developing innovative fertility treatments and ensuring excellent customer experience, as well as its strategic expansions, cater to customers' unmet needs and positions it well for sustained growth in the future.
ABOUT ALPHA FERTILITY CENTRE
Alpha Fertility Centre (AFC) is set up and run by leading doctors and embryologists responsible for numerous fertility achievements both in the region and worldwide.  This purpose built advance fertility centre located in Selangor, Malaysia is equipped with modern full range of fertility treatment options including PGD/PGS, Egg Donation, Egg Banking and Embryo Freezing using revolutionary freezing technology.
As the name Alpha suggests, doctors and staff at Alpha Fertility Centre have successfully innovated numerous fertility treatment procedures that have led us to achieve many firsts. In addition to achieving numerous fertility achievements in Malaysia and Singapore, AFC have also achieved / innovated many world firsts.  In the tradition of firsts, we at AFC are committed to put you and your fertility needs our 1st priority. We treat every couple individually and tailor make a treatment programme that caters for your specific needs.  With our wealth of expertise and innovative technology, let us be your dedicated partner in making your fertility journey a successful one
Among the many achievements are:
The world's 1st successful pregnancy and delivery following PGD-CGH diagnosis of chromosome inversion
The world's 1st reported successful pregnancy following the use of freeze-thawed sperm, freeze-thawed eggs, and freeze-thawed embryos
Leading the world in several infertility treatment procedures, the clinic consistently achieves high pregnancy success rates that are comparable with top IVF centres around the world.