ALPHA IVF & WOMEN'S SPECIALISTS – KUALA LUMPUR IS NOW RTAC CERTIFIED
ivf.staff
Petaling Jaya – 9 April 2020. ALPHA IVF is now certified in compliance with the standards of RTAC International Code of Practice.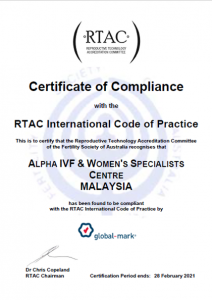 The RTAC certification is an accreditation issued to assisted reproductive technology units or fertility centres that meet the code of practice developed by the Reproductive Technology Accreditation Committee (RTAC) of the Fertility Society of Australia (FSA).
In order to get this accreditation, a fertility centre needs to go through an audit conducted by an independent Certification Body (CB) that is approved by the Joint Accreditation System of Australia and New Zealand (JAS-ANZ).
This code of practice governs the standard of care that a fertility centre implements in maintaining its quality management system including :
Compliance with statutory and regulatory requirements
Competency of key personnel
Risk Management
Process controls
Service requirements
Continuous professional development,
Presentation of data including publishing IVF pregnancy rates that are transparent and not misleading
It is imperative that couple that receives fertility treatment be treated with respect and be recognised with their cultural and individual values and beliefs and be uphold of their dignity and privacy.
The main value for Alpha in getting this RTAC certification is to highlight out competence and credibility through a good framework set by RTAC.
RTAC has also helped ALPHA IVF to maintain our core values of Excellence, Innovation, Integrity and Quality.
Putting all these into the patient's perspective, choosing ALPHA IVF as a fertility centre that is RTAC accredited translates into protection of their welfare and ensures that they receive the best quality of care by a centre that have met the highest level of assessment and professionalism in the industry.