Prestasi Pertama Dunia
Dokter-dokter, ahli-ahli embrio serta staf-staf dari pusat kesuburan lainnya telah bekerja sama dengan kami dan menghasilkan perbagai penghargaan.
Tingkat Kesuksesan
AFC dengan bangga telah mencapai tingkat kehamilan yang melebihi pusat IVF terkenal di seluruh dunia
PGD/PGS with NGS
PGD dan PGS adalah teknologi reproduksi yang digunakan pada siklus In-Vitro Fertilization (IVF)
Dengan teknologi terkini di bidang IVF, AFC berhasil meraih tingkat kehamilan yang melebihi Pusat IVF kelas atas di seluruh dunia. Berikut adalah rangkaian tingkat keberhasilan kami dalam 3 kategori:-
Transfer Blastokista
IVF dengan dan tanpa Ma-CGH
Siklus beku-cair
Program Transfer Blastokista
Tabel di berikut ini menunjukkan ulasan Program Transfer Blastokista dari Juli 2011 sampai Juni 2013. Ia menunjukkan peningkatan yang luar biasa untuk tingkat kehamilan klinis, tingkat implantasi, angka kelahiran hidup dan angka kehamilan yang sedang berlangsung. Sampai pada saat ini, sejumlah 59 bayi telah lahir / dalam stadium lanjut kehamilan.

*Lee CSS, Lim YX, Low SY (Alpha Fertility Centre). Fresh blastocyst transfer yields high clinical pregnancy and implantation rates and avoids higher order multiple pregnancies. Presented at the 23rd Malaysian Congress of the Obstetrical & Gynaecological Society of Malaysia, 5-8 June 2014, Selangor, Malaysia (Selected as one of the top 8 best abstracts).
IVF dengan dan tanpa Preimplantation Genetic Screening (PGS)
Kegagalan pada IVF kerap kali disebabkan oleh pemindahan embrio yang tanpa disadari mengandung kromosom yang tidak normal.. Dengan menerapkan PGS, hanya embrio yang memiliki jumlah nomor kromosom normal saja yang akan ditransfer di IVF sehingga meningkatkan tingkat kehamilan. Grafik berikut menunjukkan tingkat kehamilan klinis untuk pasien yang menerapkan PGS dan tanpa PGS.
Clinical Pregnancy Rate (Stratified by Age Group)
July 2013 – December 2015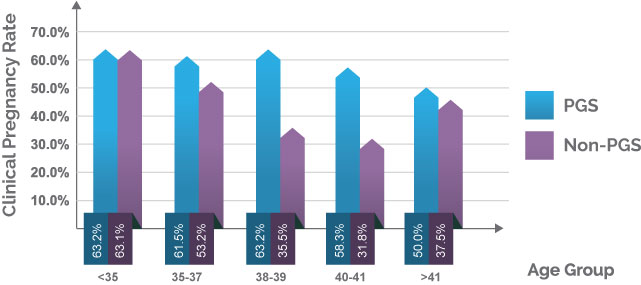 *Low SY, Lee CSS, Lim YX (Alpha Fertility Centre). Euploid blastocysts show a trend of higher implantation and clinical pregnancy rates compared to untested blastocysts in FET cycles. Reproductive Biomedicine Online 2016;32(S1):S21 (Presented at 11th Alpha Biennial Congress, 5 – 8th May 2016, Copenhagen, Denmark)
World Class Success Rate 79.5%*
Tingkat Kehamilan dari mentransfer satu euploid blastocyst tunggal dengan mutu yang baik.
Euploid Blastocyst Tunggal Dengan Mutu Yang Baik

*Lee C.S.S., Low S.Y., Lim Y.X., Keith J (Alpha Fertility Centre). Vitrified-warmed good graded euploid blastocysts aged
Sejak July 2013, AFC mulai menggunakan teknik pembekuan dan pencairan embrio baru (Metode Cryotec , Jepang) dan berkat teknologi ini, ia telah memicu pencapaian tingkat kelangsungan hidup pasca-cair 100% sehingga menghasilkan tingkat kehamilan klinis yang tinggi. Tabel di bawah ini menunjukkan hasil klinis AFC dari siklus beku-cair dari Juli 2013 sampai Desember 2015 *.
Donor Egg Program
Program donasi sel telur memberikan kemungkinan untuk hamil kepada wanita yang mungkin tidak bisa hamil menggunakan telur mereka sendiri. AFC memiliki salah satu program donasi sel telur terbaik di Malaysia. Terlepas dari sejarah kesuburan, semua penerima dari segala usia memiliki hampir kesempatan yang sama untuk sukses.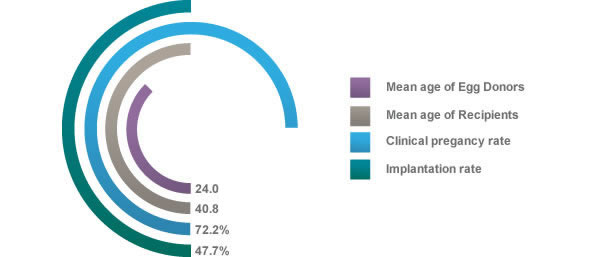 *Leong, WY; Lee, CSS; Low SY (Alpha Fertility Centre). Oocyte donation outcome at Alpha International Fertility Centre. An International Journal of Obstetrics & Gynaecology 2012;119(S1):PP.137. Presented at the 10th Royal College of Obstetricians & Gynaecologists International Scientific Congress, 5-8 June 2012, Sarawak, Malaysia.